Special SANDS Offer...
Response to our offer to provide free little plaques for stillborn and newborn babies has been overwhelming. We have been able to bless hundreds of families. We came to realise that this particular loss often has little to show for it, no photos, no precious memories, and because of that often no acknowledgement. These simple plaques can make a huge difference. There must be hundreds of families and individuals throughout New Zealand with a similar loss. If you or someone you know would appreciate something like this, email us at info@glovermemorials.co.nz with your child's name and date, and include your name and address so that we can post it to you.
Please note. This special offer was intended just for people in New Zealand, but as news has spread we have received requests from overseas. While we are happy to help as many families as we can, for those outside New Zealand we will need to charge $100NZD (approximately $50US) to cover all the costs including shipping.
Here are but a few thank you emails that we have received.
We would like to thank you from the bottom of our hearts for the plaque we recieved today 20/07/09 for Axton Tutahi Mead. We are so so so very grateful for this kind gift.
Your kindness and amazing generous gift of these plaques that you give to peple whom have lost little ones is so beyond a thanks. But I do wish you could know how much this plaque has honoured my son and daughter inlaw.
Thank you for this wonderful, perfect gift.
May God bless you.
The Mead Family
We have finally moved house and we have our memorial settled, as promised here are some pictures. You memorial stone seems to make it more special. These babies weren't just a dream but when engraved in stone everyone is able to see, feel and acknowledge their special place in our lives, hearts and family. Thank You.

Karen Jefferson
...Your kindness has done a huge thing for us both, many thanks and bless you.
Joan Street
A million kisses upon your head! Again thank you for your thoughtfulness!
Sharon Down
After reading in our Sands Expressions newsletter and seeing your generous offer I couldn't resist. My husband and I lost our beautiful daughter Bailey Rose on March 27th 2008. We would love to keep her memory alive and want to thank you for helping all of the bereaved parents in New Zealand. This experience is the worst pain I have ever felt, but it is amazing how a small piece of generosity from strangers can change your perspective on life. THANK YOU!!!
Brandy Thompson
I just wish to thank you so much for the memorial plaque you made for my daughter Georgia Henderson. Words can not tell you how grateful I am for you acknowledging my wee girl in this special way. I was blown away by how beautiful and perfect the plaque is and how quickly it arrived.
Tracey Sutton
...Special Plaque Details
These simple memorials are made from granite and marble samples, and come in various colours. The pieces are only 10cm x 6cm or 6cm square, but big enough to put a name and a date on. We will donate all the materials and time, and ship it to your address free of charge. Be patient with us; we get very busy and we do these when we have spare capacity and a few to do.
Here is one that we did for the Culling-Brown family so you can see a sample of what the plaque could look like.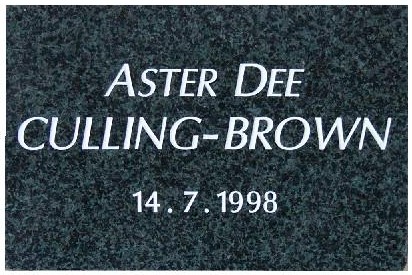 To arrange this, simply email us at info@glovermemorials.co.nz with your child's name and a date. Please include your name and an address we can send the plaque to.
We hope this simple little memorial will make a lasting difference for you.