Glover Memorials Makes National News...
Glover Memorials has always taken its place in the community seriously and works hard not only to provide beautiful monuments to honour family but also to give in any other way we can. We have been involved in the past with cleaning up Taita cemetery, providing plaques for forgotten people and ongoingly provide free memorials for families that have lost stillborn or newborn babies. >>Read more
...John Keys Cast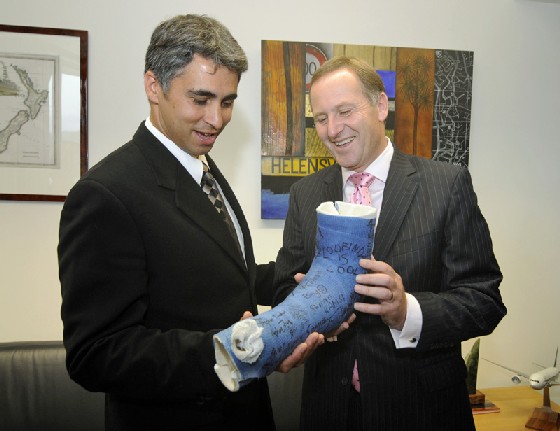 Many people have been aware that our Prime Minister broke his arm recently and after having his cast signed by several international dignitaries offered it on Trade Me with proceeds to the Fred Hollows Foundation.
When I first heard this on the news I found it interesting and a little creative, when bids started to climb it started to seem ridiculous, and when they really got big I knew I needed to know more. In doing a little more research I was impressed by what an amazing work was being done by the Fred Hollows Foundation particularly in the Pacific. We have many pacific island clients and they do some incredibly beautiful memorials to honour their family, some of which we send to various pacific islands. We thought by supporting this auction that it would be a great way to give back to that part of the community that has supported us for such a long time.
Also we have seen some pretty inspiring world events recently and there have been some overshadows of doom and gloom. I think we are in a unique position to redefine our wealth as a nation in terms of what we can give instead of what we consume. The stark reality is that in the face of poverty and blindness, and the harrowing fires in Victoria, we live in an exceptional country.
For any information you can contact me at ganesh@glovermemorials.co.nz
Radio Live Interview
Monday morning I had an interview with Marcus Lush >>Listen Here
Radio New Zealands coverage of the handover >>Listen Here
Key's castoff a snip at $18,500
BEN FAWKES - The Dominion Post | Monday, 09 February 2009

He splashed out nearly $20,000 for one of the prime minister's castoffs, but Ganesh Cherian hopes that will just be the start of renewed efforts to raise money for the blind.
Mr Cherian, who part-owns a headstone business in Lower Hutt, is the proud new owner of the arm cast worn by Mr Key after his New Year tumble at a Chinese community celebration.
The Trade Me auction, which raised funds for the Fred Hollows Foundation, was a unique way to give to charity, Mr Cherian said. "Part of this is saying we have what we need and there are people out there in the world who don't even have the basics, such as eyesight.
"It's an opportunity to care and give we actually are an extremely wealthy country."
Mr Cherian said he was considering either on-selling the cast or renting it out to raise more money for the foundation.
He was "shocked" his $18,500.10 winning bid, placed late on Saturday night, was enough to win.
Money raised from the auction will go to the foundation, which operates blindness prevention programmes throughout the Pacific, including Papua New Guinea and the Solomon Islands, the two countries Mr Key visited after he broke his arm last month.
The cast bears the signatures of Australian Prime Minister Kevin Rudd and other Pacific leaders.
The proceeds would go toward funding two eye surgery outreach visits in the Solomon Islands this year, the foundation said. Doctors on two similar trips last year performed nearly 100 sight-restoring surgeries.
Mr Cherian said he was more interested in supporting a worthy cause than in having a piece of memorabilia to show off. "I'm very, very blessed and have more than I need. I see this as a wonderful opportunity to give on such a level."
He was unsure when the cast would be handed over or when his morning tea with Mr Key would take place.
He said he was not politically partisan, having voted for "most" of the parties, but he enjoyed November's change of government.
And was he worried the cast would be a bit smelly after nearly six weeks on Mr Key's arm? "I suspect they'll encase it," he said hopefully.
Wife sees the light as husband buys PM's cast
4:00AM Monday Feb 09, 2009 Isaac Davison

The man who paid $18,500 for John Key's plaster cast in a online auction says his wife was initially "aghast" at his suggestion that he bid for it.
The proceeds of the auction, which closed at the weekend on Trade Me, will go to the Solomon Islands work of the Fred Hollows Foundation, which runs blindness prevention programmes in Third World countries.
Mr Key broke his arm in two places when he fell while leaving the stage at a Chinese New Year function in Auckland three weeks ago.
His cast was signed by Australian Prime Minister Kevin Rudd and other Pacific leaders.
The auction winner, businessman Ganesh Cherian, said his wife was initially opposed to the idea of putting in a bid. "But I sat down and talked to her, and we decided it was what we wanted to do.
"In my business - making memorial headstones - I have a lot of Pacific Island clients and I liked the idea that people from the Solomons would benefit from the money.
"It is not really about the cast. It was an opportunity to bless other people. I think we live in an extremely lucky part of the world, and I wanted to give at a time when people are otherwise constricting their spending."
Mr Cherian said he hoped another business would buy the cast from him, with that money also going to the charity.
Mr Key assured the buyer, who also gets to have morning tea with the PM, that the cast was well preserved. "It is still at home. I am not keeping it in the safe, but it is still in very good condition."
The Fred Hollows Foundation said proceeds would go towards funding two eye surgery visits to remote parts of the Solomons. Each visit would involve up to 440 consultations and 100 sight-restoring surgeries.
Executive director Carmel Williams said: "We are extremely grateful to the Prime Minister ... and the winning bidder. It's wonderful to be able to fund additional surgical team visits."