Community Care...
We take pride in the fact that we are the longest standing Monumental Mason in Wellington and one of the oldest in New Zealand. We are an integral part of the wider community that we serve. So we make it a goal to help where we can to improve our neighbourhood and encourage other businesses to do likewise.
...Sir Roy McKenzie's Plaque
In November 2010 we contributed to the memory and work of Sir Roy McKenzie by providing a plaque for the Te Omanga Hospice Garden of Appreciation. Sir Roy McKenzie was the co-founder of New Zealand's first Hospice and a champion of the Hospice movement. Along with his many trusts and projects, he dedicated his life to improving the lives of others. A great New Zealand Hero. Glad to have been able to do something small for him and his family.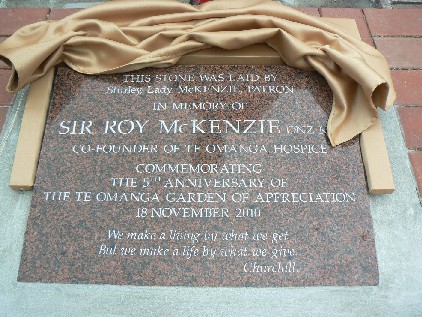 ...Christchurch Earthquake Relief Fund
The Canterbury Earthquake has been devastating. We have watched news footage and talked to family and friends in the area still shaken by what has gone on. By donating $25 for every new memorial in October 2010 we were able to raise $950 to give to a relief fund set up to help the Christchurch City Council rebuild.
...Glovers work with Fred Hollows and Prime Minister John Key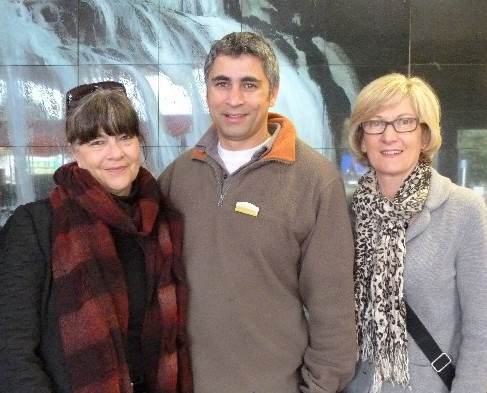 Gabi Hollows (Fred Hollows wife) , Ganesh Cherian, Gillian Moore (Fred Hollows NZ)
Gabi Hollows came to thank Glover Memorials on a recent trip to Wellington. Gabi delighted us with stories of Fred and talked about his memorial and gravesite in Bourke NSW. We surprised her with a plan to donate to Fred Hollows with every heastone sent to the Pacific Islands in 2011 as part of our 100 years celebration.
To see the Fred Hollows work in the Pacific first hand watch this Close Up segment.
In early 2009 Glover Memorials successfully bid on Prime Minister John Keys cast extending our community service into the pacific with the donation going to the Fred Hollows Foundation >>Read More
...Ernie Engelbrecht Memorial & Unveiling
Over 20 people attended the unveiling on Wednesday 5th of July 2006 to honour George Engelbrecht. The service was lovely. Christel made a heartfelt speech when she unveiled the headstone. Robert spoke on JR Croft's and Glover Memorial's behalf. The psychic Kelvin Cruckshank who appeared on the Sensing Murder program spoke and then director of Sensing Murder finished with a great speech. It absolutely hosed down rain and strong winds blew with it but everyone said it was a wonderful gesture and couldn't thank both Glovers and Crofts enough.

Many expressed their appreciation including this email from Jannine Malcolm:
"Hi there, I would to thank Glover Memorials etc.. for their kind and honourable gesture in the lovely headstone for George Engelbrecht, A man whose life ended abruptly and so cruelly... Nobody deserves that in life. I have followed the story since it aired on Sensing Murder and participated in the Trademe Message Board Chat on this subject and was so glad something positive has come of it all. Lovely people like yourselves are a Godsend to New Zealand and although I never knew this man I would like to say Thank you so much for this heartfelt, kind spirited act of utmost kindness and humanity that he deserves.
Good on ya Glover Memorials! "
Kind Regards, Jannine Malcolm
If you would like to email us please contact catherine@glovermemorials.co.nz
...The Background Story
After seeing TV One's sensing Murder program and learning that Mr Engelbrecht was in an unmarked grave across the road at Taita cemetery we decided as a team to do something special. Together with the local community and JR Croft Funeral Directors who did the interment back in 1979 we designed a fitting tribute unveiled on Wednesday 5th of July 2006.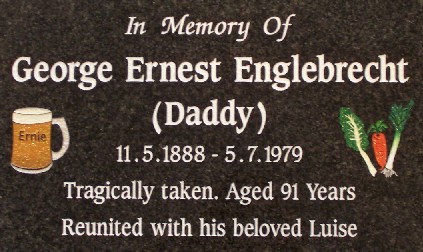 ...Free Stillborn & Newborn Plaques
As a team we thought we could use some of the many granite and marble samples we have to make a simple but lovely memorial for these precious children, for whom parents often have nothing to remember them by.
Since 2005 we have offered families the opportunity to have a small plaque through the Stillborn And Newborn Death Support group (SANDS) free of charge. To date we have done over 1000 of these plaques and send them all round the country.
Here is one that we did for the Culling-Brown family. >>Read More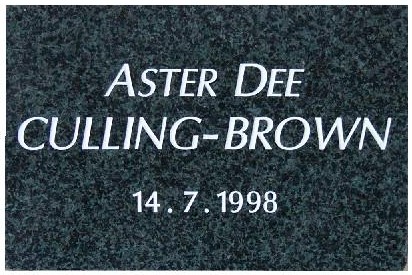 ...Waterblasting in Taita Cemetery
In May 2005 we started a project to improve the older part of Taita cemetery directly across the road from our Naenae showroom. Many of the older, neglected gravestones had moss and lichen growing over them. We undertook to water blast all the headstones within a year and after the first month had made quite a noticeable improvement. The local press took an interest in what we were doing and printed the following article in both the Hutt News and the Petone Herald.
Hundreds of headstones in the monumental lawn of the Taita Lawn Cemetery are to get a spruce up, courtesy of Glover Memorials. The company's new owner, Ganesh Cherian, says he believes in putting something back into the community. When he bought the firm, he looked for a community project and decided that waterblasting the headstones would be a good idea. Many of the headstones have no one to look after them. They're covered in lichen and moss, so much so that some names and epitaphs are unreadable.
The work will take about a year and will only involve cleaning the headstones. City council reserves manage Kelly Crandle says it is a very public spirited thing to do, all the more so because Mr Cherian does not live in Hutt City. "It will be great when they are finished. We are trying to improve the appearance of the old part of the cemetery so people will go there." The council has looked at cleaning headstones but she says that it is really a family responsibility and using council resources is hard to justify.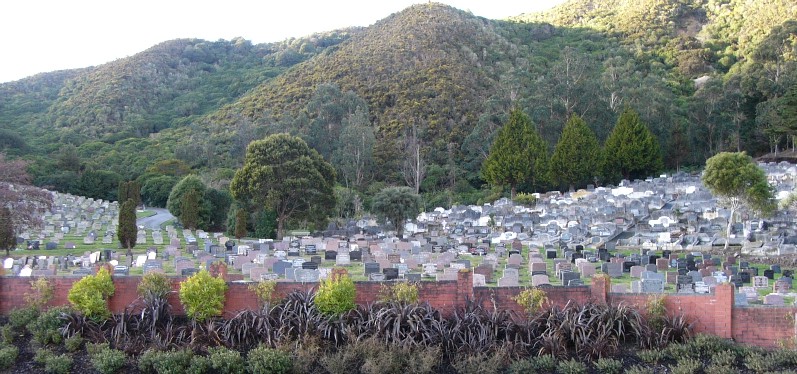 You can now see the difference the water blasting has made to this part of the cemetery in restoring it to its former appearance.