Customer Thanks...
I wanted to take some time to let you know 'what a difference' you have made in helping me sort through this. Thanks for your patience, your kind words and especially your help. For without it, I don't think I would have been able to get this done in time. I have totally appreciated the way in which you have dealt with me.
Ruth Manase
My thanks for an excellent job done at St Joseph's church yard Pauatahanui. The memorial is very nice, and the guys left the place so tidy it looks as if it has been there for years!
Eileen Guise
I would like to express my sincere appreciation for all the work you did on our family plaque recently.
You were so calm and patient and understood our requests and desires for perfection with great professionalism.
Thank you once again for making such an emotional task a far more managable one to bear.
Loren Peters
The headstone was so colourful and cute. We are very satisfied, you guys have done a great job, it was much better than what we expected. It was just wonderful. Thank you.
Looc Family

I personally wanted to thank you for the awesome job Glover Memorials did for us.
Everyone that attended the unveilling were so impressed and wowed about the headstone. They all wanted to know where we had got it done (they thought it was imported from Australia because of it's detail and design).
I just cannot thank you enough. The whole process was professional and stress free.
Agnes Beddie

The stone looks great and everyone is happy. Thank you for making it so painless!! We have enjoyed dealing with you, you made everthing feel personal, friendly and do-able.
Until next time (hopefully not too soon!!!!)
Rose Odlin
Just a little note to say thank you for doing such an awesome job with my husband's headstone. You were easy and excellent to deal with from the very first consultation through to the very end. We had some excellent comments. I just wish that you were there on the day of the unveiling to hear them. Godbless
Osborne Family
The work that you do in such a kind way,
deserves special mention and to say,
"in helping those who cannot speak,
and helping families in their hour of need,
is a Blessing bestowed upon you
that gifts to this world a better way of seeing
what is needed when they are grieving."
And so to you all I say unto you,
Thank you so much in all that you do."
Mary Ann McFadzean-Read.
...We have just returned home from our trip to Wellington. I just wanted to say a very big thank you for the excellent work the firm did on my Uncle Tim's memorial. Congratulations, a wonderful effort. Many thanks.
Bobbie Amyes
...Your memorial stone seems to make it more special. These babies weren't just a dream but when engraved in stone everyone is able to see, feel and acknowledge their special place in our lives, hearts and family. Thank you. >>Full email and pictures
Karen Jefferson
All the dealings for our headstone were done by phone and fax. All the support and ideas Shirley sent us were fantastic, and the family are thrilled with the finished memorial. Many thanks.
Sandra Read
Glover Memorials is committed to providing the best tribute for your loved ones and will work with you to create a memorial that will honour your family and friends. Want some ideas? >>See our Gallery

... Glover Memorials in the News
Glover Memorials was recently the subject of TVNZ's good sort segment, for its work making plaques for families who have lost a little one. Watch the segment here.
...CELEBRATING 110 years with Incredible deals!
2021 marks 110 years since Glover Memorials first started business. We want to give back to the communities which have supported and trusted us to honour their loved ones. We are also keen to continue leading the way so that our memorials are superior, personal and are an excellent value for money. Here are some great deals >>See Specials
...AWARD WINNING!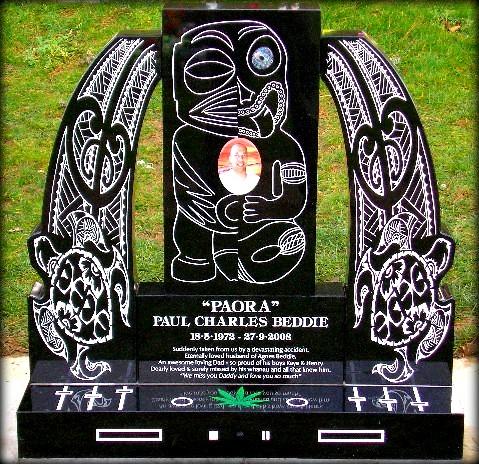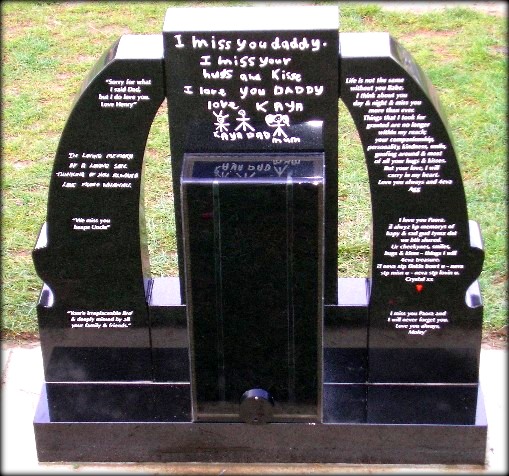 Glover Memorials recently won the very prestigious Memorial Art Award from the New Zealand Master Monumental Mason Association. This category submitted and judged by Monumental Mason firms all around the country recognises excellence in monumental art and design. Our entry was a headstone done for the Beddie family which combined Rarotongan and Maori art and also incorporated a sound system, which was designed and built by Adam Ben-Dror, that played music with a play button on the base.
...Best Value Guaranteed!
We believe that we can offer more than any other company. With 100+ years of combined experience and history, we can offer the best, quality, workmanship and price. >>See Statement
...Art
Part of our quest to offer the best has led us to find innovative ways to produce quality art. Here is an example of how we can take something personal to your family and reproduce it beautifully on stone.

Glover Memorials has always been a leader of designer art >> See examples
...Pricing
One of the most frequent questions we get is "What is an average cost of a headstone?". Unfortunately this is not an easy question to answer. There are so many options and different cemeteries have different requirements. However we have put together this page to help you get some idea. >>Pricing
...Free Information
We offer comprehensive advice in the preparation and planning of a memorial. Email us today with your name and address and we will answer your query. Please include the cemetery you are enquiring about and whether you want information about a upright or lawn memorial. >>Email here
...Cremation Memorials
Do you have an Urn or box of ashes sitting on your mantelpiece or bookshelf? Would you like to do something more but don't know where to start? >>See options
...Community Care Program
We have worked hard this year to improve our community and also bless the lives of families throughout New Zealand >> Full article
© 2021
Member of the New Zealand Master Monumental Masons Association

Your Assurance of Quality